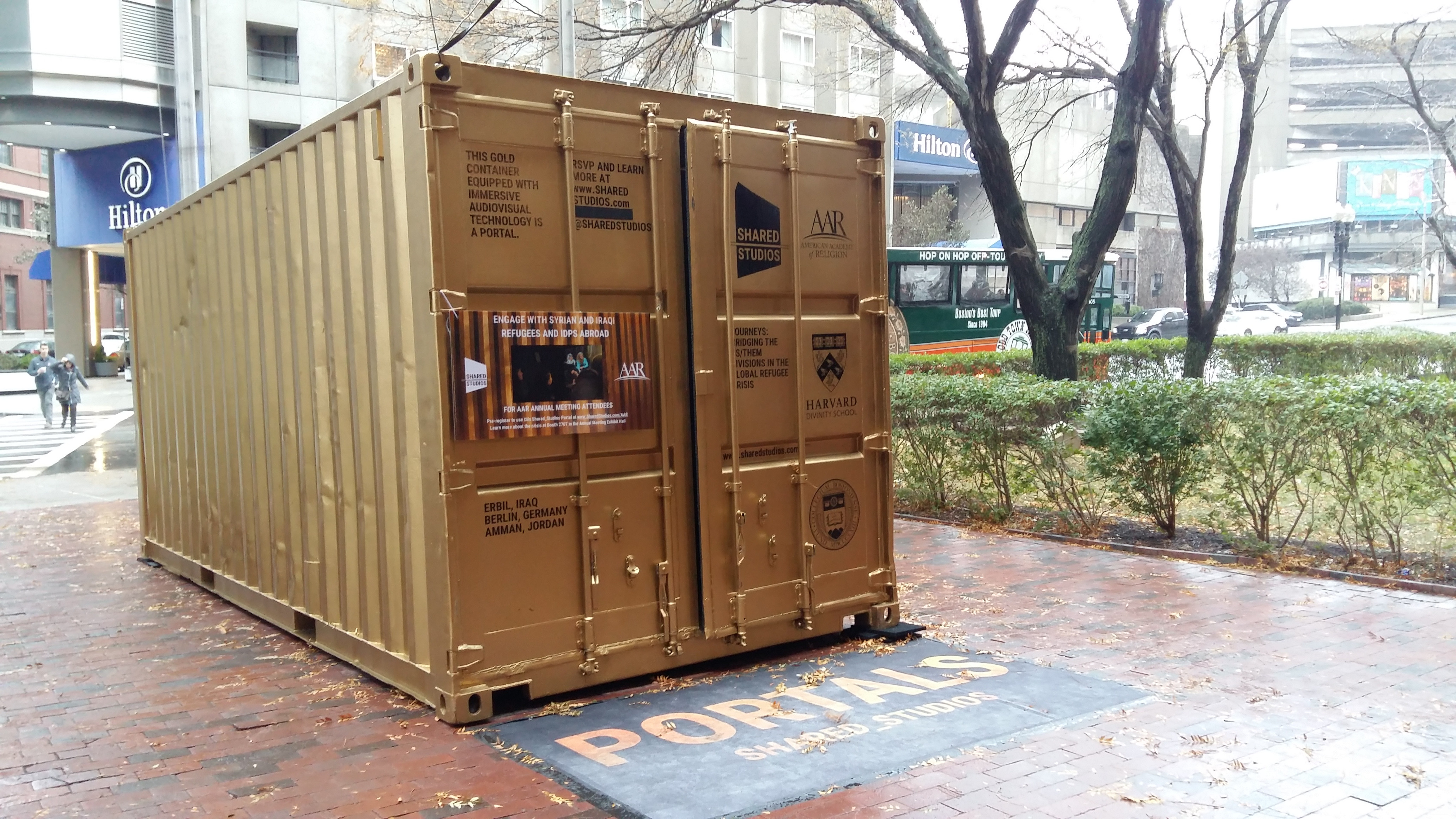 Photo: The Secure Portal by Shared Studios at the #AARSBL17 (Academy of American Religion/Society of Biblical Literature 2017 Conference) in Boston, MA which enabled communication direct with a refugee camp in Irbil
I just spoke to refugees from Mosul in Irbil, Iraq. Rami and Sami are two brothers who have been living in a refugee camp in Irbil for three years. Their journey from Mosul took them first through Syria, then Turkey, and after a delay of five days at the Kurdish border, they were permitted to enter again into the area of Iraq now controlled by the Kurds. Irbil is in Kurdish territory. The delay at the border was because relations between the Arabs and the Kurds is not that good.

Relative to other refugee camps, it sounds like Rami and Sami's situation is not disastrous. The camp recently got a large generator which gives residents access to electricity. Rami's family recently purchased a new countertop portable gas stove which allows them to cook more comfortably than with the single burner they started with when they first arrived in the camp. They look like they are dressed in casual but comfortable clothing. Cell phones are used to stay connected with friends via social media.

Life is much more than these immediate physical needs--one needs hope to continue moving forward. As having recently completed his secondary schooling, Rami is registered in a post-secondary program at Mosul University. However with the entire campus having been destroyed by the war, there are no buildings within which to conduct classes, let alone computers to use in his computer science program. Students and instructors gather in various locations and course content consists of the most basic of ideas. It will take a very long time for Iraqi education to reach the heights of its pre-Saddam reputation. This is the same situation for basic infrastructure in all of the territory previously under the control of ISIS (داعش ). Recovery may likely be measured in decades.

However what is seen on the outside is not necessarily a reflection of what happens on the inside. When I asked Rami about hope for the future he replied that it was necessary for him to look for reasons to be happy, for there are too many reasons to be sad. If he doesn't persist in being optimistic, he will easily lose hope. Although he is clearly gifted in English, science and leadership--all excellent skills for rebuilding his homeland, he hopes to emigrate and maybe find his way to the US or Canada.

Please remember Rami and those like him. When the opportunity is available, speak up for and defend the rights of these and other refugees. Our shared humanity is enough reason to do so. Yet may we all be motivated by a desire to see justice accomplished for all of God's creatures.